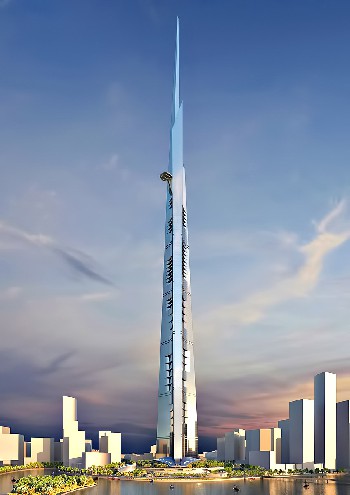 By ARAB NEWS
Published: Feb 22, 2012 00:01 Updated: Feb 22, 2012 00:01
JEDDAH: A Jeddah-based project to build the tallest tower in the world has been given the go-ahead after it received its final license, Chairman of Kingdom Holding Company (KHC) Prince Alwaleed bin Talal confirmed.
The SR4.6 billion Kingdom Tower, which will stand over 1,000 meters tall, is the centerpiece and the first construction phase of Kingdom City, Jeddah Economic Companys (JEC) new urban development covering more than 5.3 million square meters of land in the north of Jeddah overlooking the Red Sea and Obhur Creek. Work on the project began on Jan. 1. Partners of JEC include KHC, Samaual Bakhsh, Abraar, International Holding Company, prominent Jeddah businessman Abdulrahman Hassan Sharbatly and Saudi Binladin Group (SBG). This project will provide sustainable profits to shareholders, said Prince Alwaleed. He also thanked various supporters of the project, including Makkah Gov. Prince Khaled Al-Faisal, Minister of Municipal and Rural Affairs Prince Mansour bin Miteb, Jeddah Mayor Hani Aburass, and Gen. Adil Zamzami and Lt. Gen. Abdalah Jedawi from the General Directorate of the Civil Defense.