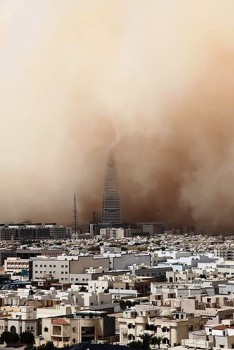 By RIYADH: RODOLFO ESTIMO JR.
Published: Apr 14, 2012 00:38 Updated: Apr 14, 2012 00:38
A heavy sandstorm suddenly hit the Saudi capital yesterday afternoon, turning day into night with almost zero visibility, and forcing motorists to take precautionary measures by flashing hazard lights while negotiating the slow-moving traffic. The skies had been cloudy almost the whole day until it suddenly became dark in the afternoon due to the sandstorm. Motorists had to flash hazard lights to alert drivers as traffic slowed down, said Eric P. Asi , an electrical engineer at a local firm.
He said that darkness enveloped the main arteries of the capital city such as Qassim, King Fahd, Khurais and Makkah roads because of the sandstorm that started at about 5 p.m. With the sandstorm came a heavy downpour. Also strong winds buffeted the city and raked up the sand to add to our woes, added Cenon Nonie C. Sagadal, a marketing representative of a local bank, adding that the rains left some areas in the city flooded.
Earlier, the Presidency of Meteorology and Environment (PME) had issued a warning on the possibility of inclement weather in most parts of the Kingdom, prompting the Civil Defense Department to be cautious about flash floods caused by rains. PMEs spokesman Hussein Al-Qahtani said the unstable weather condition would continue for some time. The Civil Defense urged the public to keep away from pathways of flood.